This beautiful property is located just three miles west of Medicine Lodge on HWY 160 and three miles south on Gyp Hill Rd. It's easily accessible by a private easement and sits just 1⁄4 mile off of pavement.
Cedar Creek provides a reliable and rare source of live water to this area of the Gypsum Hills and flows through the heart of this property.
The Cedar Creek Valley is loaded with mature hardwood trees that offer an excellent bow hunting environment. The valley opens up to rolling hills with tall native grasses. These grasslands are home to a good population of bobwhite quail and offer excellent bedding grounds for whitetail deer. The grass has been extensively managed and practices recommended by the NRCS have been implemented to utilize the ranch to its fullest potential.
The Anderson Creek wildfire of 2016 killed many eastern red cedars on the ranch. There are NRCS contracts in place to cost-share in the removal of the dead tree carcasses. These contracts are very favorable to the land owner and will aid in increasing the value of the property. You can see by the pictures that this ranch has been intensively managed to produce trophy whitetail and quality registered and commercial livestock. The ranch has not been over-hunted and bucks scoring in the mid 150s to 200+ inches have been seen and harvested consistently.
There are approximately 80 acres of farm ground right along the creek. The value of having farm ground tucked alongside a tree-lined creek goes without saying. You have a blank canvas to plant whichever crops will work best for you.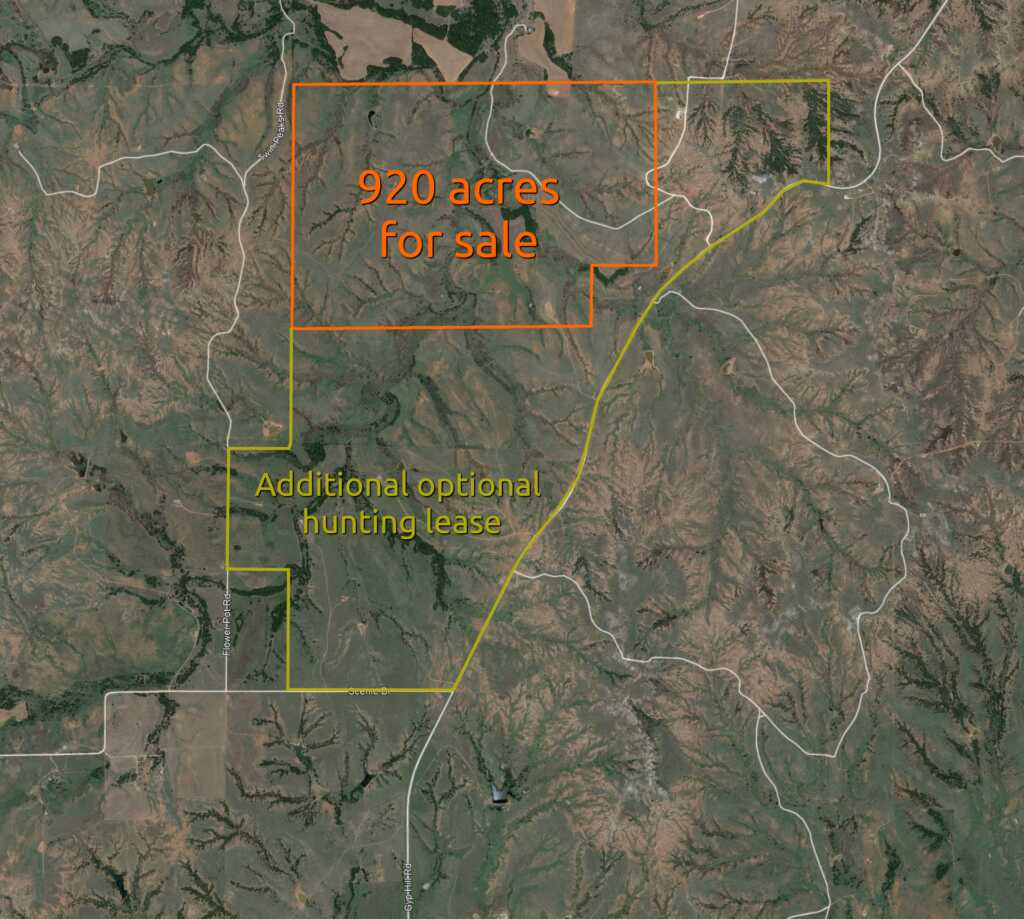 Located in the south-central portion of property is a reliable solar powered water well with a fiberglass tank. There is a man-made pond located in the northwest portion of the property. This area of the ranch offers an excellent combination of substantial runoff and deep canyon space which makes the building of additional ponds an attractive prospect.
The Cedar Creek Ranch North sells with 100% of the seller's minerals intact, providing the rarest of opportunities to own a large block of contiguous minerals in this area of Kansas.
The 920 acre Cedar Creek Ranch North is offered for sale at $1,750/acre or $1,610,000. The sellers are interested in negotiating a sale that would allow them to lease back the grass, as well as offer to the buyers an additional hunting lease on the Cedar Creek Ranch South, which is an additional 1378 acres of bordering Cedar Creek Valley land. There is an additional 80 acres of farm ground located on the Cedar Creek Ranch South. A full guide service and lodging can be negotiated as well.
This is the diverse and unique ranch that you, the hunter and investor, have been looking for. Schedule a viewing of this property and be welcomed to Barber County — call Jed today at 620.886.1701 or email [email protected].